T.B. – California
BINDI – BELOVED PET HEALED – PART 1 – Medical Intuitive & Pet Healing
CLSuser
To any who readily believe, might believe or cannot imagine believing:
I am writing to share an incredible and life changing experience I was privileged to be a part of – thanks to Les Martin … and the powers that be.
In early April 2018, my beloved pit bull, at the young age of 4, was diagnosed with lymphoma. It presented itself externally as skin tumors/lesions. It was devastating. The day after the diagnosis, she had surgery to move 4 large tumors on her shoulder and hip. 2 days after surgery, we started chemotherapy.
After the first month of chemo, her oncologist was very optimistic as there were no new lesions. However, that hopefulness quickly faded in May 2018 when numerous tumors appeared almost overnight. Long story short – chemotherapy for 6 months and each time more and more tumors would appear and were very inconsistent. Some would shrink, some would stay the same and some would almost go away completely, however, there would be 4 more coming up elsewhere. Additionally, she developed big tumors in her abdomen that presented like large knots under the skin. Basically, (in the oncologists words), this wasn't working. After 6 months of chemo, I had to prepare myself to lose my dog.
With all hope being lost, a friend told me about Les and I reached out to see if he could help. He could, indeed.
I booked a session with Les to work on my dog on October 1, 2018. A few days prior to October 1, Les "checked-in" with my dog and got the information he needed. He let me know the same day that she was not meant to die from this cancer and that he could help. On October 1, we did the official session and he, again, assured me he could help my dog and informed me that there were many other reasons why this wonderful dog was in my life. And there are … but, that part is personal. ? Les did his thing and informed me that he would continue to "work on her" every day this week to help her rid herself of this horrible disease. He assured me she was going to be fine.
The first picture is Monday, October 1
The second picture is Wednesday, October 3
The third picture is Friday, October 5
Unbelievable … but true.
I discontinued chemotherapy that day and as of now (December 26, 2018) we are tumor free.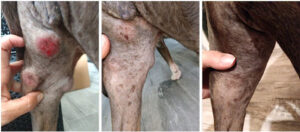 See BINDI – BELOVED PET HEALED – PART 2 below.